Discover ALLPlayer 7.7 - faster & lighter video player

Fixes in version 7.7 Lite:
slimmed down graphic interface of the program
faster application startup
new file formats detection and playback
corrected downloading of subtitles
The latest version of the most popular ALLPlayer 7.7 Lite movie player has just been released. The unique Lite designation means a lighter and faster version than previous ALLPlayer releases.
In this edition, we focused primarily on sliming down and thorough rebuilding of ALLPlayer, which in some cases resulted in even a quicker start of the application. The new version has been deprived of unnecessary and burdening system graphics elements and thanks to this it works more stable and is ready for operation practically immediately after launch.
Particular attention was also paid to the new mechanism of recognizing video files, thanks to which the program immediately recognizes the type of stream and decodes it using the fastest available audio / video codecs in the program.
The key change is a brand new video search visible from the player screen. After configuration, ALLPlayer searches for movies stored on local drives in the specified directories and on websites offering free videos - movies or video clips - more about the configuration of the search engine on our FORUM
We improved significantly internet radio, which now is divided into convenient folders and grouped by location and music genre.
Support for subtitles to videos from opensubtitles.org was also improved.
The latest engine supports the latest video and audio standards, such as support for 4K Ultra HD or WebM, and also improves the quality of subtitles.
By connecting to leading subtitles database such as OpenSubtitles.org ALLPlayer automatically downloads the perfectly matching subtitles in the selected language.
They should not also be unnoticed subsequent changes to improve the usability in a modern program interface known more from smartphones and tablets than Windows.
ALLPlayer interface was designed and looks like smartphone apps interface, so many young people should operate it intuitive and with ease. All functions are readily available, the precise moment they are needed.
We haven't forgotten about mobile users - for them is prepared ALLPlayer Android compatible with Android 5.0 Lollipop, and convenient remote control app to operate the player.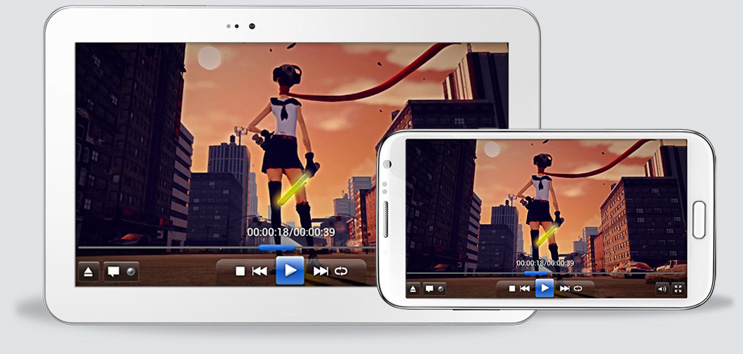 Most important features:
Windows 10 compatible
built-in codecs to play any audio/video files ( with support for 4K and ULTRA HD)
movie and tv series search
playing movies and TV series with subtitles
internet radio stations
automatic download of matching subtitles
The latest ALLPlayer 7.7
This Chapter explains the principles binding within ALLPlayer.org related to processing of any information including data which may me made available to us by the Clients during their use of the page. Our aim is to protect the Client's personal data in the Internet.
In our service, the Clients will find the description of our products and services. The Clients may read reports, obtain the latest information and offers without the necessity to present us with any information about themselves.
In order to improve our services, we shall send to the Client's net browser a small file which will be stored in the Client's computer and read by our Internet server (such files are called "cookie"). Such cookies cannot be read by any other Internet server apart from the server that transmitted the cookie. Cookies are used by ourselves in numerous administrative tasks, e.g. for storing the Client's preferences as to a given type of information or for the Client's password which shall not have to be entered by the Client on his/her every visit to our website. Most of such cookies exist exclusively during the session or "visit". No cookies shall include information that may allow third parties to contact the Client electronically, via electronic mail or via direct mail. The Client may prepare his/her net browser for informing him/her about cookies being sent or for preventing information cookies from being sent.


\