ALLPlayer 8.4 - the fastest movie player

The latest version of the ALLPlayer 8.4 brings an increase in the efficiency of decoding movies and series for owners of new Nvidia graphics cards. Accelerating files with H264/HEVC codec, the most popular decoding formats at the moment, is currently more dealing with GPU, relieving CPU - this is good news for people with weaker computers. Acceleration is available for GPUs:
* H264 (Nvidia® NVENC)
Computers with GPU: Geforce GTX 600 series, QUADRO / TESLA (K series) and higher.
GPUs: GTX 660M, 670MX, 675MX, 680M, 700M and higher.
* HEVC (Nvidia® NVENC)
Computers with GPUs: Maxwell GM20x (GTX 950/960/970/980 / Titan X), Pascal GP10x (GTX 1030/1050/1060/1070/1080 / Titan X), QUADRO / TESLA (M / P series) or higher.
Laptops with GPUs: GTX 965M, 970M, 980M or higher
What's new in 8.4:
Improved acceleration for NVidia GPUs
We have improved and expanded the subtitles editor, and their display can now be easily synchronized thanks to the ability to quickly move the selected number of seconds forward or backward (keys "<" and ">")
More information about the audio or video file under the "i" button
Improved memorizing of the Audio output
Improved automatic search for the next part of the series on the local disk
Fixed problem at program startup after installation in French
ALLPlayer version 8 is a completely new ALLPlayer, a new engine with improved support for the latest audio and video standards, such as 4K support, UltraHD or WebM, also introduces improvements in the use and quality of the displayed subtitles. By connecting to the leading service Opensubtitles.org, ALLPlayer will automatically download perfectly matched subtitles in the selected language.
ALLPlayer 8 has also a new playlist, which will surely please fans of serials and those users whom ALLPlayer serves as a music player and Internet radio, in which the list of stations is updated daily. The search engine built into the playlist will allow you to easily find the music track or movie on the disk. For years ALLPlayer has been known for a very useful function which is automatic downloading of matching subtitles for movies and series. This feature also works when streaming video from the internet. ALLPlayer can also be operated using a smartphone with Android and iOS.

They should not also be unnoticed subsequent changes to improve the usability in a modern program interface known more from smartphones and tablets than Windows.
ALLPlayer interface was designed and looks like smartphone apps interface, so many young people should operate it intuitive and with ease. All functions are readily available, the precise moment they are needed.
We haven't forgotten about mobile users - for them is prepared ALLPlayer Android compatible with Android 5.0 Lollipop, and convenient remote control app to operate the player.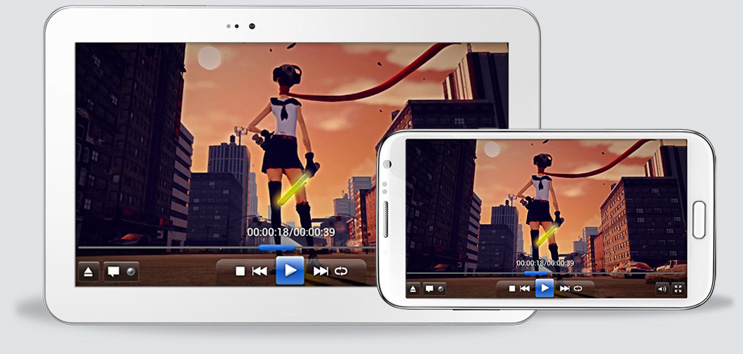 Most important features:
Windows 10 compatible
built-in codecs to play any audio/video files ( with support for 4K and ULTRA HD)
movie and tv series search
playing movies and TV series with subtitles
internet radio stations and playlist
automatic download of matching subtitles