ALLPlayer 6.4

- the fastests, free video player with subtitles
ALLPlayer 6.4 is completely a new quality in terms of speed of opening files.
We put this time a pressure on a new detection of video files, so that the program immediately recognizes the type of a video stream and decodes it using the fastest, embedded into the program, audio/video codecs.
The latest engine supports the latest video and audio standards, such as support for 4K Ultra HD or WebM, and also improves the quality of subtitles.
By connecting to leading subtitles database such as OpenSubtitles.org ALLPlayer automatically downloads the perfectly matching subtitles in the selected language.
They should not also be unnoticed subsequent changes to improve the usability in a modern program interface known more from smartphones and tablets than Windows.
ALLPlayer interface was designed and looks like smartphone apps interface, so many young people should operate it intuitive and with ease. All functions are readily available, the precise moment they are needed.
We haven't forgotten about mobile users - for them is prepared ALLPlayer Android compatible with Android 5.0 Lollipop, and convenient remote control app to operate the player.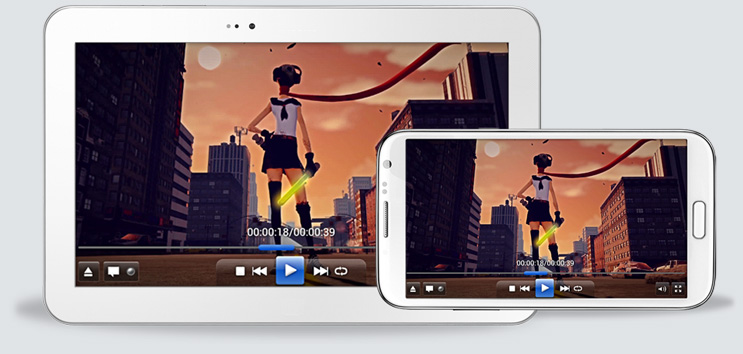 Improved in ALLPlayer 6.4:
stability of video playback of files with embedded subtitles
an issue with subtitles on 12 hour clock systems
download subtitles from napisy24.pl and opensubtitles.org
saving screenshots from a movie to .jpg (F12 shortcut)
better support for H264 format files via a hardware decoder (requires Sandy Bridge +)
better support for file formats through HEVC hardware decoder (requires Broadwell +)
Most important features:
Windows 10 compatible
built-in codecs to play any audio/video files ( with support for 4K and ULTRA HD)
playing movies and TV series from torrents with subtitles (just drag and drop torrent file)
internet radio stations
automatic download of matching subtitles
ALLPlayer remote app for smartphone or tablet (for Android OS)